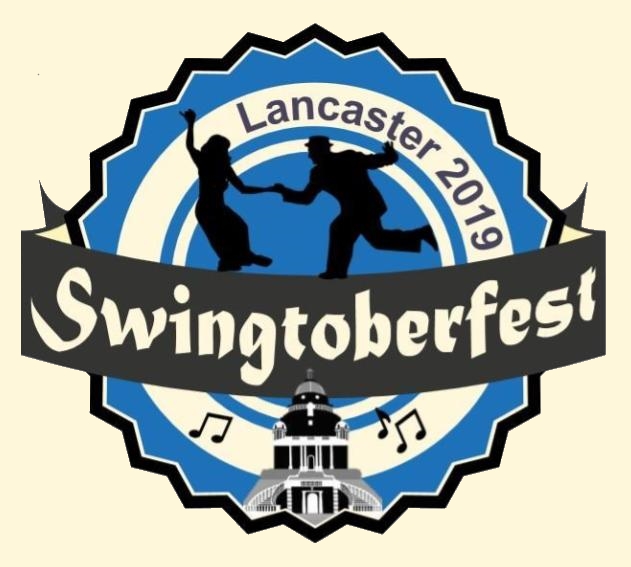 About
Here in Lancaster, our three sister organisations Lancaster University Swing Dance Society, Lancaster Lindy Circle, and Bay Balboa have organised plenty of classes, social dances, balls and weekend long workshops, but 2019 will be our first multi stream festival! We are so excited to invite you all to Swingtoberfest!
Swingtoberfest will take place on the weekend of 20th-22nd September. Three evenings of social dancing, two days of classes, one after party. More Lindy Hop than you can shake a stick at!
Swingtoberfest is organised by Lancaster University Swing Dance Association with support from Lancaster Lindy Circle.
Teachers
We have three ah-MAZE-ing  teaching partnerships lined up for you and we are so excited they are coming to dance in Lancaster!
Rob & Tina
You know them, you love them, these Leeds lovelies are bringing their inimitable style back to Lancaster and we couldn't be happier to have them! Rob and Tina have been teaching and performing together for nearly a decade. In addition to teaching weekly classes in Leeds, they regularly teach at weekend events around the UK (and occasionally further afield). Their classes often focus on core technique, lead-follow connection, and social dancing skills. They strive to give dancers a deeper understanding of the dance beyond just learning moves to help them develop their own style and have better dances with any partner. The largest project they've undertaken recently is training up the next generation of Swing Dance Leeds instructors. Their daughter Talia is just barely two but already eager to take over the family business!
Edas & Edita
Straight from Lindy obsessed Lithuania, this pair come ridiculously highly recommended, Swingtoberfest will only be their second time teaching in the UK, so grab this rare opportunity to learn from them! This is their first visit to the North, fingers crossed it doesn't rain! Edas and Edita are a couple of passionate and experienced swing dancers from Kaunas, Lithuania, where they run their own dance studio All That Swing, teaching swing dance, DJing, organising events and building a growing community of local lindy hoppers. In love with swing dancing, they enjoy every opportunity to dance and teach at swing events in Lithuania and abroad. Edas' dancing is full of energy, clean technique and pleasant surprises, while Edita concentrates on smooth movement, connection with her partner and playful technique. You can expect all this and more in their classes, where they usually teach exciting moves, rhythms and techniques, while encouraging students to build on them by adding their own ideas and style. In the classes, they also emphasize improvement of social dancing skills by teaching comfortable leading and following and aiming for enjoyable connection between the partners. Their classes are always entertaining and useful, enabling the students to improve, express themselves and find the true joy of swing dancing!
Pontus & Isabella
International teaching sensations, we are super chuffed to have them coming to Lancaster. You'll have seen them teaching all over the world and for good reason, they are fantastic! Isabella Gregorio is a well-known international dancer. She teaches and performs around the globe, exhilarating students and audiences of all ages. She is well known for her crazy style and her great expression. Her professional career started in Italy 2002 claiming several titles in numerous international competitions as well as teaching across the world with Vincenzo Fesi. Isabella has been dancing many different kinds of dance since she was a child. Pontus Persson started dancing when he was 5 years old. By the age of 6 he was actively competing, and he started teaching professionally at 16 years of age. After graduating, he moved to Stockholm in 2008 to develop his dancing even further with the renowned show company the Harlem Hot Shot. Since then he has been spreading the joy of dance through shows, competitions and teaching. Isabella and Pontus started dancing together in January 2011. With a light attitude, their classes are known for being highly pedagogical, technical, and with a focus on individual improvement. Together they have won the hearts of audiences around the world and have collected many titles together including; 5 years consecutive Swedish Champions in both Lindy Hop and Boogie Woogie, 5 years consecutive Vice World Champions in Boogie Woogie, 4 years consecutive award winners at ILHC (Various divisions) and more besides…
Socials
Friday – Louis, Louis, Louis
Swing favourites, you cannot fail to have a good night with this band behind the mic! These Northern monkeys bring classic rhythm 'n' blues, doo-wop and ska with thumpin' slap bass, honkin' horns, raucous four-part vocal harmonies and a driving piano boogie for your ears and your feet!
Saturday – Alligator Gumbo
You loved them last year at our mini Swingtoberfest so we had to get them back, this time as a 7 piece, even more alligator for your gumbo! Playing jazz from the hey-day of the New Orleans swing era, in particular the "roaring 20s", where Jazz music featured instruments such as the violin, clarinet and accordion particularly amongst the Creole musicians based in the city who helped to define this style. Before the time of the jazz big bands, swing music was raw and largely improvised with melodies and solos happening simultaneously which has now become defined as the 'New Orleans' sound. Alligator Gumbo strive to keep this style alive in their renditions of popular songs from this unique time and place.
Sunday – DJs
We'll be having a relaxed tea dance to round off the week  with our finest DJs to keep you dancing until you are truly exhausted.
Social passes are for sale at £15 per night for the Friday and Saturday social dance, book here.
Levels
We have three levels available for you to choose from, please try to choose the level that best reflects your skill level and what you hope to get out of the weekend. We will have a level check class on Saturday to make sure you are among like minded folks and to ensure you all get the most out of the weekend.
Improver
You're still fairly new to Lindy Hop, but you're clearly obsessed and ready to spend a weekend dancing your socks off! You have been dancing for under a year, you're are able to do 6 and 8 count footwork without thinking about it too hard, are familiar with fundamental moves such as swing outs, lindy circle, etc.
Intermediate
This isn't your first rodeo, you've been dancing for 1 – 2 years. You're comfortable with all the basic 6 and 8 count moves, familiar with Charleston, and social dance on the regular. You want to work on technique, hopefully learn a few new moves, add musicality and variations, and improve your Lindy Hop however you can.

Advanced
You've been dancing for 2+ years. You don't come to weekenders to relax, you come to be stretched! You're comfortable with standard 6 and 8 count moves, and hand-to-hand, side-by-side, and tandem Charleston. You're a confident social dancer, ready to think beyond just learning shapes (technique, connection, musicality).
Classes
There will be six hours of classes for your stream, plus two hours of taster sessions for you to pick and choose from. Instead of a taster class Pontus and Isabella will teach an additional Aerials class, this will require you to pre register a partnership, more details and registration link to follow.
On Saturday and Sunday morning, locals Georgina and Ausra will bring you some yoga to get you stretched, warm and ready to work!
Prices
Full weekend tickets are £120, we will have a limited number of early bird tickets available for £105. If you are a member of LUSDA or have a full LLC loyalty card then you are entitled to a 20% discount, come and speak to us or pop us an email to book.
Closer to the event we will release social passes for the Friday and Saturday night socials.
Click here to book tickets. You will need to register with LUSU in order to book.
Accommodation
You can book accommodation on campus for as little as £35 a night, book here.
The lovely folks at YoloLets have offered a 10% discount to swingtoberfesters, they have a number apartments that sleep 6 so perfect for you and your fav pals to share!
Lancaster House Hotel is also very conveniently located and only a short walk from our venues.
Alternatively there are plenty of hotels and airbnbs available in the area. If you're looking for hosting please post your request on the Lancaster Swing Dancers group and hopefully someone will be able to squeeze you in!